How it works for your business
The Private Label process puts you in control of your own brand: the range of product categories and packaging styles provides you with a great foundation for a robust brand, and the label builder enables you to make your brand stand out and compete with major brands in your store. Here's what you need to know in order to make it work for you…
How does our category range differentiate?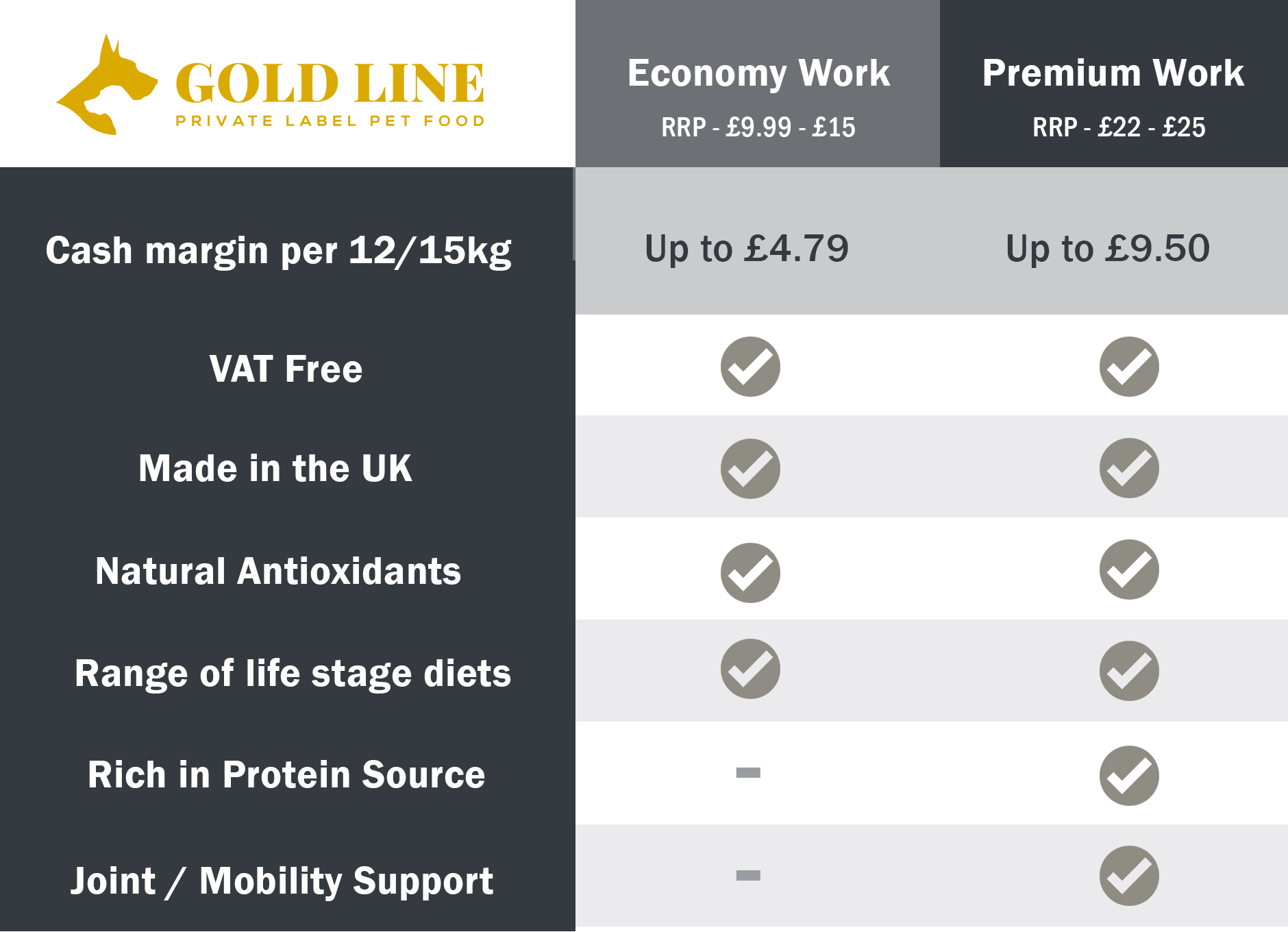 What is the minimum order quantity?
50 12 or 15kg bags or 750kg (1 pallet)
What are the payment terms?
Initial orders will be pro forma, with payment via credit card and PayPal accepted on the website. Based on a satisfactory credit check we can extend credit terms from the 3rd order onwards.
How have the Recommended Retail Prices been benchmarked?
Gold Line Feeds have produced and sold both private label foods and branded products for many years, as such we conduct regular market research and consumer surveys to ensure prices are attractive to consumers whilst providing attractive margins for retailers. Of course these prices are recommendations only and as part of owning your own brand you can set your own pricing strategy.
What gives me the right to sell Working Dog food VAT-free?
Any food which is held out for sale for working dogs is zero rated for VAT. This means that should you choose to stock our Working Dog varieties, by making it clear that these diets are intended for feeding to working dogs you will not have to add VAT to the retail price.
What marketing support is there for my brand?
We recognise that the marketing mix is important in building a brand in store. As such we can provide advice on tried & trusted plans and activities, and will be creating digital assets which can be adapted and customised to help grow your brand.
You've built your brand, how long until you have product on sale?
Once you have placed an order, we will deliver within 5 working days (UK mainland).